There's truly nothing like kicking your feet up and enjoying some good R&R.  Every year many Pease ballers and young pitchers around the country shove off on vacation with their families for some much needed time to recover from the daily grind.  For many, vacations can stretch as long as 3 weeks of the summer.  Even the most committed baseball player will struggle to remain in baseball shape while the waves are crashing in everyday.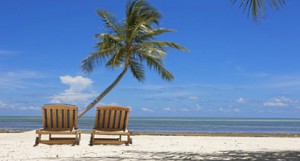 Upon return, freshly recovered arms become used and overused immediately.  When I mean overused I mean going about the game as if you did prior to leaving for vacation.  Typically injuries occur fairly quickly in return from that long period of rest.  For most parents and players it is a baffling scenario because they felt they just had a long period of rest and the arm should be in top notch condition.  Unfortunately this isn't how the body works and I hope that pitchers and players overall are able to do a better job to get themselves ready for baseball correctly before stepping back on the field.  There is a reason Major League Baseball gives players and entire month of spring training to get ready for the regular season.  Yes, it is true, kids are not major league baseball players, but they are human and will be subject to injuries just like everyone else, especially pitchers due to the violence of the throwing motion.  Spring training involves a pace that allows players to build up their effort level whether its their swing, throw, running, or pitch.  My recommendation would be to take a few days and re train your body at lower effort levels each day to re acclimate the body to the movements you are used to.  Build your effort over the course of those days and pay attention to how your body is reacting.
Pease Baseball's guide to vacation recovery:
3 week+ vacation = 7 full days preparing for play
2 week vacation = 4 full days preparing for play
1 week vacation = 3 full days preparing for play
***Preparation in essence is practice at an effort level you comfortable with but not game speed.   Build up to game speed by the last day of recovering.
***Tossing the ball or swinging a bat during vacation will always help in those days when you return.
***Light stretching routines for your throwing arm and body can benefit greatly during vacation.
All in all, I want to continue giving my best advice to help prevent injuries as much as possible.  As I say all the time, even the player with perfect form is still at risk of injury, my hope is that the risk is limited as much as possible.  Baseball is much better played when healthy.
As always comments are encouraged